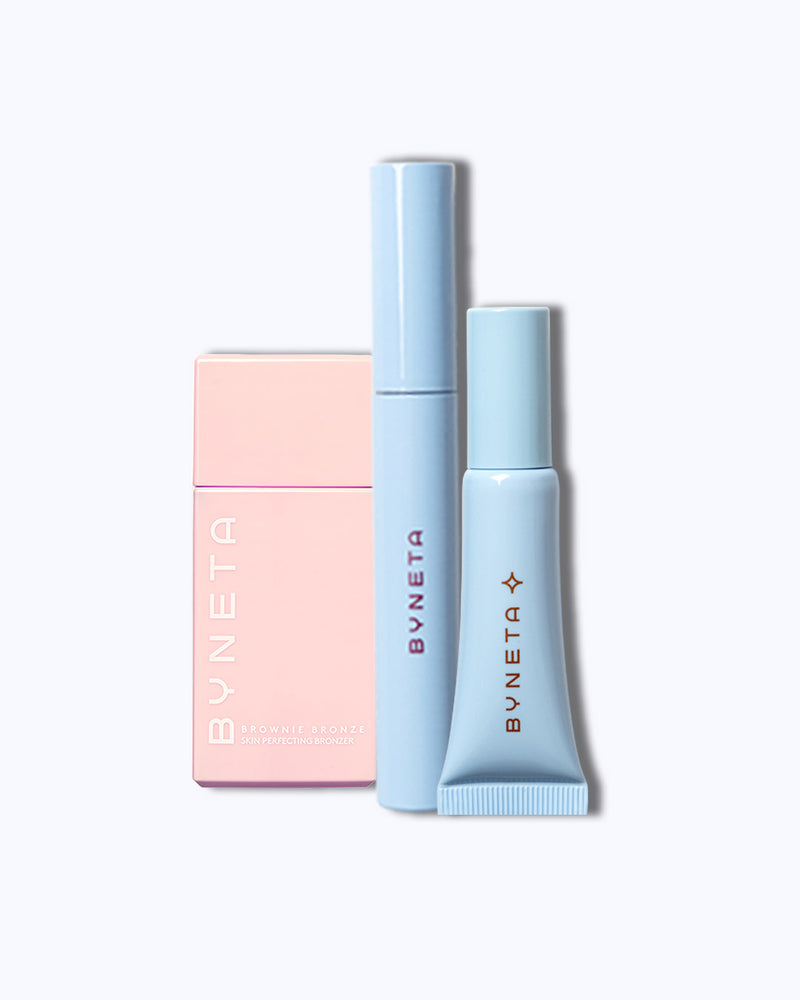 Must have Kit
RUNWAY READY Clear Brow Gel
Introducing your new 24 hour fix! An ultra freeze clear brow gel that defines, holds and sets your brows while also treating them - for up to 24 hours! The innovative pressable tube allows for complete dispensing control and the unique short brush allows for maximum precision with no white cast. Enriched with Vitamin E, Omega 3 and glycerin - this luxury brow gel will have you runway ready in seconds.
UPGRADE Volume, Lift & Length Mascara
Upgrade to fuller, longer and dramatically lifted lashes in seconds with BYNETA's new UPGRADE mascara. Designed in Italy to help you create looks that match your mood and personality, this rich formula is effortlessly buildable and offers a satin, breathtaking black pigment.
BROWNIE BRONZE - Skin Perfecting Bronzer
This instant face, neck & décolleté bronzer
skincare makeup hybrid product delivers a supernatural, beautiful sun kissed glow.
The advanced formula is enriched with vitamin E to protect the skin from environmental stressors and with the powerful PENTAP-COLL anti aging peptide, for long lasting protection and an unforgettable sun-kiss
Shipping & Returns
Shipping and delivery
LOCAL SHIPPING
Local shipping in Israel:
Express shipping via messenger to your door ( in 3-5 business day, approximate time)

INTERNATIONAL SHIPPING
PLEASE NOTE: IT IS THE BUYER RESPONSIBILITY TO PAY ANY TAXES & VAT THAT CUSTOMS MIGHT CLAIM.
All Other destinations are shipped via air mail with tracking number.

• Express Shipping 3-7 business days:
• AMERICA (USA , Canada) - 30$
• AUSTRALIA - 42$
• EUROPE: (U.K, France, Germany, Austria, Belgium, Ireland, Italy, Belgium, Denmark, Portugal, Netherlands , Greece, Norway, Spain, Poland, Finland, Sweden, Switzerland) - 25$
• ASIA: (Japan, Hong Kong, South Korea, Thailand)  - 42$

(*Please note that timing may change from country to country, max delivery time is 10 days).
All orders are shipped with a tracking number- please keep track in case of customs delays / other.
Delivery times are estimated, delay may occur by post, custom or holiday.
You can return or exchange the item within 14 days of receiving the item. Items must be unworn/unused and in original condition and packaging. Shipping cost will not be returned, and it is the buyer's responsibility to pay for the return shipping costs.
Cancellations or returns
In case of order cancellation or returns, the product should
be returned unused, unopened and in its original packaging. Any use of the
product in any way, or the opening of it's packaging will be considered "a
used product" and will not be eligible for cancellation and or returns,
in case of order cancellation or returns, it is the
customer's responsibility to return the products. Please return any
cancelled / return products to the company's warehouse at 5 Egoz
street, Industrial zone Modi'in, Israel. Our business hours are 9AM to 4PM,
Sunday through Thursday.
You may choose to return the products via messenger. Please
note that the credit card you used to make your order will be charged for the messenger service and this sum will be deducted from your refund.