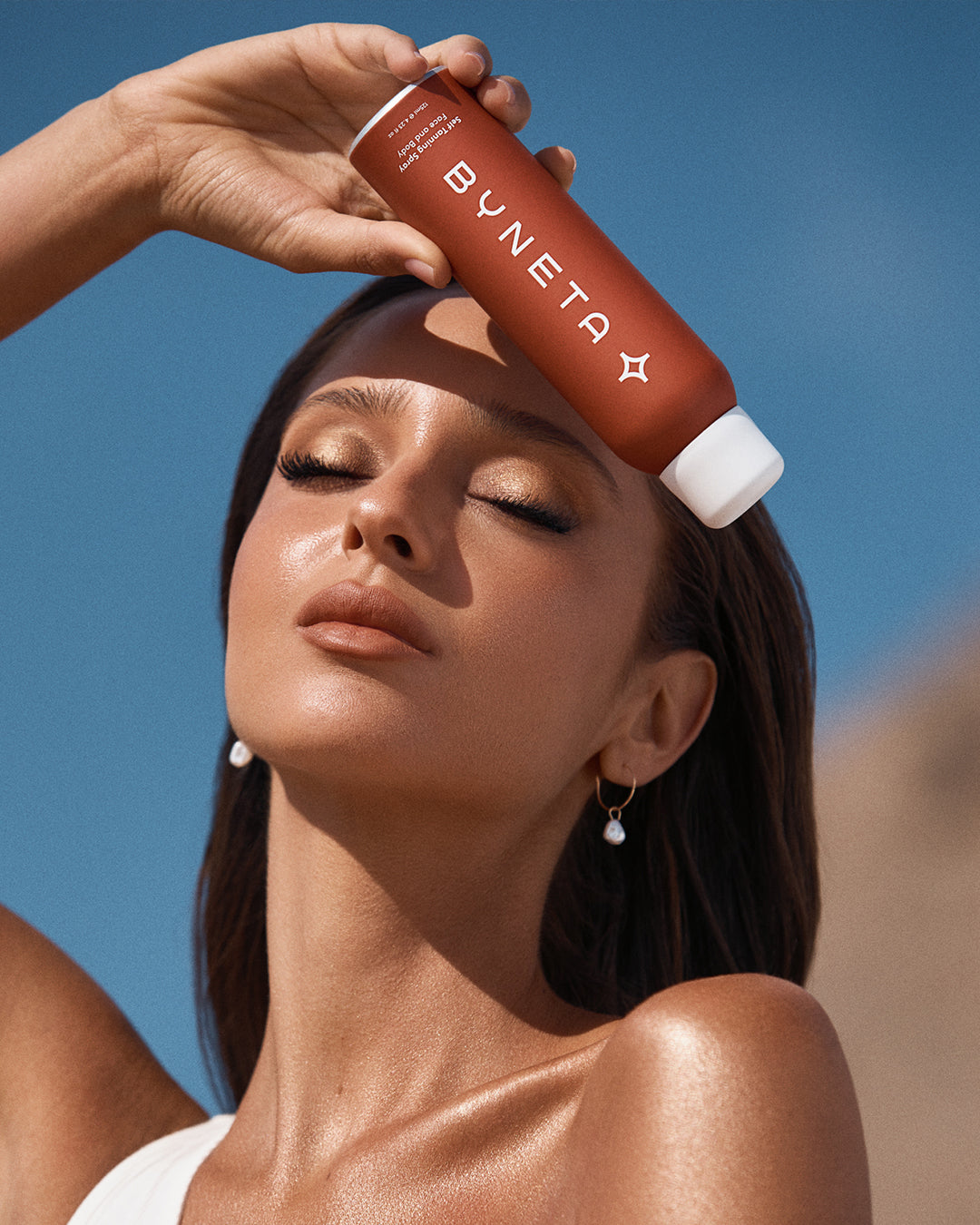 Tips From Neta
How to get the perfect self-tan?
Neta's tips and tricks
BYNETA self-tanning products are just perfect. They allow you to look, every day, like you've just returned from an amazing vacation. But wait! Neta has some exclusive tips and tricks that will help you achieve the most natural, even, head turning results. Follow these guidelines and enjoy the realest fake tan ever!
Prep your skin
Smooth, clean skin is the key element to an even looking results. So, make sure you follow these steps before applying your BYNETA self-tanning spray or mousse:
Exfoliate: Since self-tanner saturates more intensely in dry areas of built-up dead skin, it is very important to exfoliate with your favorite exfoliating cream or cloth before self-tanning. Pay extra attention to the knees, ankles, feet, and elbows.
Clean: For your self-tanner to spread evenly on the surface of your skin, make sure you remove all residual dirt / makeup / sunscreen and oiliness by thoroughly cleaning your skin with your favorite cleanser.
Moisturize: as we mentioned, self-tanners saturate more intensely in dry areas. That's why a well moisturized skin is so important when applying a self-tanning product.
Protect: If the color of your eyebrows and hair are fair, Neta recommends protecting your hairline and eyebrows by applying a little Vaseline before self-tanning.
Appling the BYNETA self-tanning products
BYNETA offers a self-tanning spray, ideal for the face, neck and decollate and two shades of self-tanning mousses (dark and extra dark) both ideal for the body.
Applying the self-tanning mousse: Shake well before use. Apply mousse on your BYNETA application mitt and spread evenly on your skin in circular motions until mousse is fully absorbed. Allow to dry and refrain from washing the skin for 4 hours. Neta recommends on the following application order: Shoulders – arms – chest – belly – legs – butt – back and finally back of hands.
Applying the self-tanning spray: Shake well before use and spray in a continuous, circular motion, keeping the bottle about 30 centimeters away from the skin. Allow to dry and refrain from washing the skin for 4 hours. Neta recommends on the following application order: Face – neck – decollate.
Maintaining your gorgeous BYNETA tan
The BYNETA breathtaking tan will develop on your skin for four hours after application, so no showers for at least four hours! The tan will remain on your skin for 4-5 days and will fade gradually, just like real tan does. To maintain the just-returned-from-a-vacation look Neta recommends using the spray and/or mousse 1-2 times per week.
Enjoy!